Beverly Hills, CA September 11, 2009 -- Donna Perkowski is not your typical college freshman. This 21 year old coed already has a résumé stacked with work experience and accomplishments. While her sexy set of credentials are massive, she feels that a university degree from Playboy University will thrust her toward one of the top positions within her field.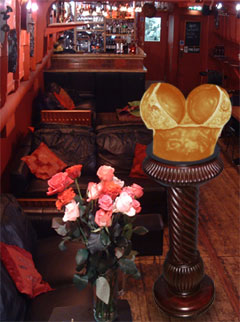 Bronze bust of Pamela Anderson's bust in the admissions office welcomes Playboy University coeds
"I'd always wanted to go to college, but wasn't able to find a school that would admit me on my, well, assets rather than on my SAT scores," Ms. Perkowski explained.
A fellow freshman, 19 year old Shiela Stubble, said, "When I heard that Playboy University was opening, I was so excited that I went straight down to Hooters and quit."
Ms. Perkowski and Ms. Stubble aren't alone in their enthusiasm. Members of the first class of coeds began arriving yesterday on the campus of Playboy University for their first day of orientation. As they bounced and jiggled among the newly-erected buildings on the 15 acre Beverly Hills campus, the atmosphere oozed with an orgasmic warmth.
Playboy University is the lovechild of Playboy Magazine founder Hugh Hefner, now aged 83, who will serve as the University's president. Caley Hairpi, Deputy Spokesmodel for Playboy Enterprises, said of Mr. Hefner's ambitious dream, "Hugh has always enjoyed seeing beautiful young women improving themselves, but his experience told him he needed to prod the young women to make them better. Playboy University will provide the setting for that. And while it's premature to claim this will be the climax of their educational career, Hugh has promised to get down on all fours if he has to in order to make this a great experience for each member of our student body."
The curriculum of Playboy University is as unique as its students by attempting to straddle two normally unrelated issues, beauty and education. Very Liberal Arts degrees will be awarded in such fields as Magazine & Trade Show Posing, Internet Porn, Diet & Poor Nutrition, Spokesmodeling, and Geriatric Assistance, to mention a few. The classes are scheduled to begin at approximate times and reading/writing assignments are expected to be minimal. Academic Advisor, Dick Schwinger explained, "We're not all anal about the written word here." Mr. Schwinger continued, "We're more into the oral learning."
University officials have also found a unique way to make the coed's education more or less free of cost. The inclusion of web cams in all the dorm rooms is expected to cover all tuition fees. Additionally, body enhancement grants are available to all students with grade point averages being raised .5 for every surgery undertaken.
While the costs are next to nothing, Playboy University officials proudly claim that the selection process is tougher than other universities. Enrollment Director Peter Rambone explained, "What other university invites a prospective group of students to their campus pool to be examined and handpicked for attendance by the president of the university? None! I assure you our process of groping and ogling is as thorough as can be."
Although the concept behind Playboy University sounds appealing, as it provides girls a backdoor entrance to a college degree, there are detractors. Protestors from the National Organization for Feminists United Nationally (NOFUN) was on campus talking to the coeds about something. The NOFUN table was surrounded by a buxom bevy of bountifully-boobed babes. Interesting information was exchanged by all in this throbbing mob. For example, nineteen year old Valerie Ripping, one of the hot coeds gathered around the table under the simmering California Sun, recounted how her favorite color used to be plaid, but is now velcro. There were many adorable stories like this making it difficult to understand what the protestors were protesting.
All in all, Playboy University seems to have a firm grip on its future and will most likely be bursting at the seams with more lovely coeds seeking to enhance their position in the world.
By Raoul Thibodeaux, Avant News Staff Writer