Sacramento, February 6, 2008 -- Republican candidate for president Ron Paul swept the primary elections in several key states on Super Tuesday. The candidate, who despite the support of a fiercely loyal virtual following who, while avid internet users, are generally too young or too anti-government to vote, had been trailing distantly in California and New York polls prior to Super Tuesday.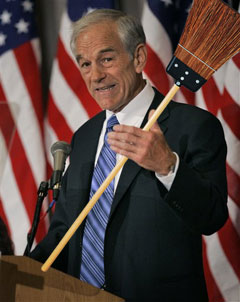 Republican presidential candidate Ron Paul and his broom.
Dr. Paul had been predicted to pick up little more than "table scraps" from the vital multi-state contest, according to one pollster.
"That's why Ron Paul's sweep comes as so little of a surprise," Marty Finkleberg, a political pollster with Primary People Polls of Atlanta, Georgia, said. "Libertarian crackpot or not, Ron Paul has always been a neat freak. He has the tidiest campaign Winnebago of any candidate I've ever seen."
As official New York primary results began to roll in yesterday night, Ron Paul, who was on hand at New York campaign headquarters, the Pizza Hut on Western Ave., Albany, first gritted his teeth and wept a little. He then strode resolutely to a nearby cupboard, extracted a broom, and began sweeping the canapé, button and straw hat-strewn floor, according to Mink Spipple, a member of Ron Paul's two-man New York for Ron Paul campaign team.
"Dr. Paul grabbed the broom like he was a man on a mission," Mr. Spipple said. "'Everybody get on out now, shoo' he shouted, and chased us all out the door, which was actually pretty annoying considering upstate New York is colder than a well-digger's ass this time of year. A couple of us got shot by muggers carrying legal concealed firearms. I think they thought we might be immigrants.
"Then he started sweeping all the little stickers, confetti, campaign paraphernalia and stuff into a tidy little pile," Mr. Spipple continued. "A man with that kind of work ethic should really have gotten more than 3% of the vote, in my opinion. It's a shame."
Mr Spipple said Dr. Paul then leapt into his Winnebago and raced to South Albany airport, flaunting posted speed limits in a deliberate act of defiance against the freedom-hating New York State Thruway Authority, where a 1974 Cessna 182 Skylane was waiting to speed him to California in advance of that state's primary results.
"He didn't make it here until about 7:15 this morning, after refuelling stops in Pittsburgh, St. Louis, Wichita, Denver—where he also stopped for some dusting and to plug in some slow-release air fresheners—then Salt Lake City, and Vegas, " Wally Bundaleif, a volunteer with Ron Paul's California campaign said, "but his eyes were bright and his broom raised in triumphant salute.
"'I'm here to clean up government,' he said. We'd heard about New York, so all of us who were still there just quietly put down our donuts and sidled out of the Kinko's that serves as Dr. Paul's Sacramento campaign headquarters and let him get to work."
Ron Paul's dedicated internet supporters had long been predicting an upset victory for the maverick Republican candidate, who is running for president with the ultimate goal of dismantling the entire federal government, a position that has broad support among the wealthy disenfranchised suburban youth and flinty-eyed Montana gun-owner demographic. As such, Ron Paul's sweep following the California and New York primaries is expected to be seen as somewhat of a disappointment to all fourteen of them.
"At least the campaign HQs are tidy," Mr. Bundaleif said. "And there's always the possibility McCain, Romney and Huckabee will drop out.
By Ion Zwitter, Avant News Elections Analyst