Bangkok, Thailand, July 9, 2007 -- For the first time since the inauguration of the Miss Universe Beauty Pageant in 1952, the coveted Miss Universe crown will be proudly borne by a being from beyond the Earth's immediate solar system. Dark horse entry Iittikkupt Wrttkkyl of the planet Oog in the 55 Cancri System upset favorites Candee Pakige of California, Sindee del Pinar of Rio de Janeiro and Casynella Ollivierre of St. Vincent & The Grenadines yesterday to claim what pageant owner Donald Trump describes as "the most important of all the beauty pageants, as defined by the scope of its title and the ego of its owner."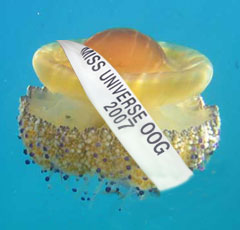 Miss Universe 2007: Iittikkupt Wrttkkyl of the planet Oog in the 55 Cancri System
"I am very pleased to have been granted this highest of all earthly honors," Ms. Wrttkkyl said, speaking through an interpreter able to decipher the wisps of blue ammoniac gas with which Ms. Wrttkkyl communicates. "And I look forward greatly to subjugating and snacking on your many diverse forms of human and animal life."
Ms. Wrttkkyl, a first-time pageant entrant, hails from remote planet Oog (known on Earth as 55 Cancri b), a Jupiter-like planet located third out from the primary sun in the 55 Cancri binary solar system some 41 light years from Earth.
The significantly higher gravitational force of Planet Oog has endowed Ms. Wrttkkyl with physical characteristics similar to those borne by previous Miss Universe winners, but with a unique buoyancy triggered, according to pageant organizers, by the gravitational differential.
"Granted, her face could make our sun go supernova," Mr. Trump, who officiated at the Miss Universe 2007 competition as primary adjudicator and measurement consultant, said, "but her binary attributes, if you will, are like nothing I've ever seen. They're natural, too – silicon doesn't even exist on her planet."
Ms. Wrttkkyl said she hopes to use her Miss Universe 2007 crown to "end world hunger" by eating as many people as possible before returning to the 55 Cancri system for a round of "culturally sensitive photographic appearances and intergalactic sexploitation". She also appealed to world leaders to provide her with "any highly enriched uranium you might have lying around" to aide her in refilling her spacecraft, which the lissome beauty described as "running on empty".
"We, the young women of the universe, believe people everywhere are seeking peace, tolerance and mutual understanding," Ms. Wrttkkyl added. "We pledge to spread this message in every way we can, wherever we go, nude, naked, or merely scantily clothed."
"I think this particular pageant result truly vindicates the whole Miss Universe concept," Mr. Trump said, speaking though an interpreter able to decipher the wisps of blue ammoniac gas with which Mr. Trump communicates. "Next year, I'm hoping to get some of the more adventurous string theorists to see if they can dig up any thong-wearing entrants from parallel dimensions."
By Ion Zwitter, Avant News Editor