On November 17, 2009 the American public witnessed the release of Sarah Palin's tell-all book, "Going Rogue: An American Life". Here are some previously unknown facts about the book.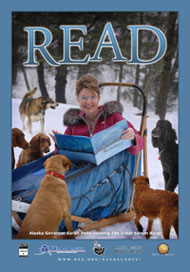 Actual 2008 NEA Alaska Poster: Governor Sarah Palin goes to the dogs — to encourage young people to read.*
This is the first book officially endorsed by the NRA as a weapon for hunting wolves (assuming it's thrown hard enough from a helicopter).
The book may be found in the teen pregnancy prevention section of most book stores. Its intended use is that of a how-not-to guide for parents.
If the book is thrown into the Bering Sea it may eventually wash up on the shore in Russia.
The book is very popular on the professional snowmobile racing circuit, as attested to by professional racer Jasper Clintook who said, "We can't believe Todd is tappin' that!"
The original title was "$1.25 Million Retainer: Americans Are Suckers".
* Really, this is NOT a Photoshop!! Proof!
(we're not sure about how reading to dogs links to literacy among young people....must be an Alaska thing)